LEED White Paper - Decorative - Downloadable
Out of Stock
Ways in which glass products are used for LEED Rating
Product Details
The intent of this Paper is to address areas of the U.S. Green Building Council's Leadership in Energy & Environmental Design (LEED®) Rating System that are relevant to the use of Decorative Glass. This document describes the ways in which decorative and mirror glass products are consistent with the intent of the LEED Rating System. Although individual building products do not in themselves constitute conformance to the LEED criteria, depending on the amount and type of glass used in a project, this versatile material has great potential to help achieve LEED credits. Also found within is a comparative analysis between LEED® 2009 and LEED® v4. The Technical Services Division of the National Glass Association (NGA) has produced this Glass Technical Paper solely for informational purposes. This Paper was developed by dedicated member volunteers and subject matter experts. This is the original version of this document, approved and published in 2017. All purchases will be electronically accessed or delivered.
Additional Product Photos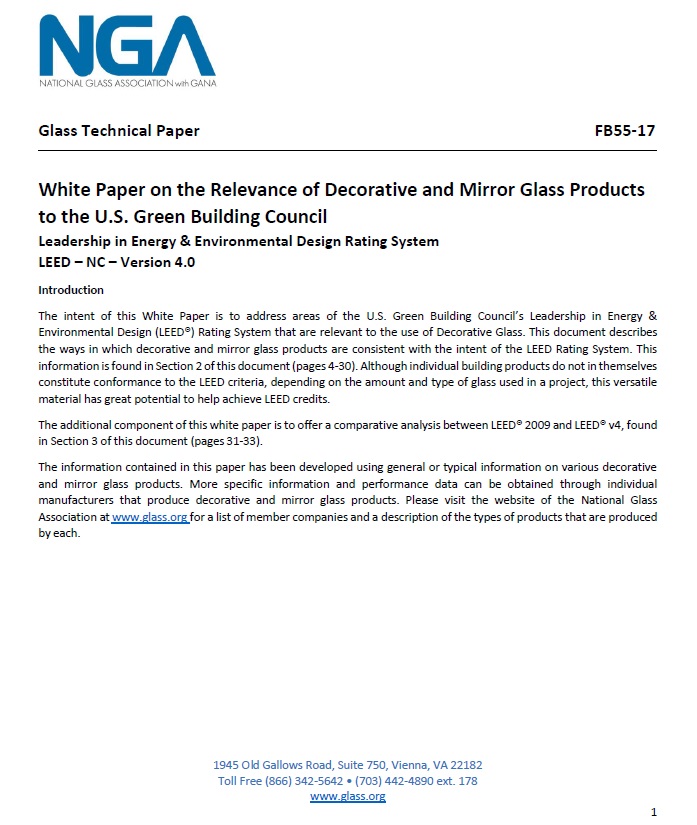 Site Maintenance
Our system is currently down for scheduled maintenance. Your member services will be available again shortly. Please check back soon.