Guidelines and Best Practices on How to Manage Color Variance of Decorative Glazing - Downloadable
Out of Stock
Determining the acceptability of a color in decorative glazing
Product Details
Determining the acceptability of a color in decorative glazing is a process that requires participation and cooperation from the entire supply chain. A basic understanding of perceived color and the factors that affect it are critical to the success of establishing a color standard. This document offers a brief overview of perceived color and measurement methods that can be used in establishing a color standard for decorative glazing.

The Technical Services Division of the National Glass Association (NGA) has produced this Glass Technical Paper solely for informational purposes. This Paper was developed by dedicated member volunteers and subject matter experts. All purchases will be electronically accessed or delivered.
Tags DecorativeDecorative
Additional Product Photos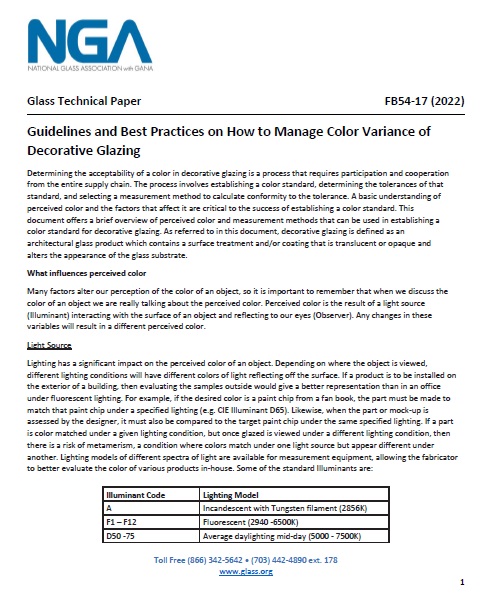 Site Maintenance
Our system is currently down for scheduled maintenance. Your member services will be available again shortly. Please check back soon.