Concepts for Analyzing Glass Tempering Problems
Out of Stock
Concepts for analyzing glass tempering problems video series and learning package
Product Details
This unique video series and companion education tools offer diagrams, detailed photographs, tempering demonstrations and real-world case studies to serve as a guide to both fundamental concepts and troubleshooting tactics.
Strength & Failures of Glass

Ideal Tempering Cycle

Tempered & Heat-Strengthened Glass

Break Patterns

Entrance Zone Furnace Breakage

Break Pattern Problems

Warp & Distortion Problems

Estimating the Effects of Chemistry & Coatings

Introduction to Iridescence

Optical Distortion

Field Problems
SPECIAL NOTICE: Due to the COVID-19 pandemic, shipping & handling of this product will take additional time. Please allow 4-6 weeks for delivery.
Tags TemperingTempering; Laminating/Heat-StrengthenedLaminating/Heat-Strengthened; FabricationFabrication
Additional Product Photos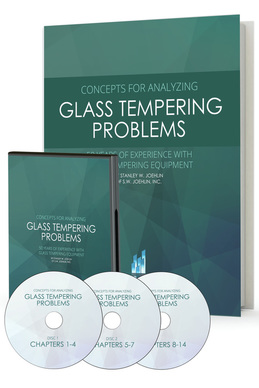 Site Maintenance
Our system is currently down for scheduled maintenance. Your member services will be available again shortly. Please check back soon.